ABOUT US
Mr. Pradeep Bhanot is a CPA, CGA, LPA practicing as Bhanot Professional Corporation in the city of Mississauga catering to the local businesses in GTA and Ontario wide
MEET OUR TEAM
At Bhanot Professional Corporation , we are committed to maintaining professional work ethics and updating our staff knowledge to meet the increasing complexity of the work environment
FREE CONSULTATION
With Over Thousands of Real Customers and 20+ Specialists,
Get A Free Consultation

As a long term customer (almost 11 years), we have always felt valued. We are very pleased with the client centric service provided by  Bhanot Professional Corporation.
For many years, Mr. Pradeep Bhanot and his team at the Bhanot Professional Corporation have delivered exceptional accounting services and expert advice to Aureus University School of Medicine. We are grateful for the care and attention they bring to their work. It has been a pleasure working with them.
We have delt with Mr. Bhanot for more then 25 years and have relied on his skills for our personal and corporate tax needs. We have always found him to be reliable and knowledgeble and would recommend him highly to anyone requiring a cpa.
Over the years Mr Bhnot has helped us set up mulitple companies and has guided us in succession planning
Follow Us On Social Media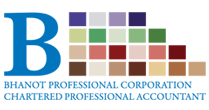 Address: 2-7370 Bramalea Road Mississauga, Ontario. L5S 1N6
Contact No: 905-672-1700
Email: [email protected]

Fax No: (905) 672-1701